A fan blog about Bradford Anderson and his character on General Hospital Damian Spinelli .
Friday, January 2, 2009
screen cap from http://members.fotki.com/spixiegirl27/
Posted by

Penny
at 9:05:00 PM
2 comments:


Thursday, January 1, 2009
Number 10
March 6, 2008 (Scab writers) Spin and Maxie talk and hug at Georgie's grave. This is when I truly realized that they could really work as a couple.
Number 9
December 16, 2008 (Michelle Val Jean) In a deeply touching and also fun scene, Spinelli and Maxie talk about their night of sex after she fakes an orgasm with a wall to piss off Lulu.
Number 8
March 4, 2008 (Scab writers) While stuck in the sewer, Maxie wonders why Spin didn't love her sister and if he did end up with her, would he have thrown her over for Lulu if she showed interest. He tells Maxie that when he gives his heart to someone, it would be their's till they handed it back to him. My favorite PI fantasy between the two was also included on this day.
Number 7
January 29, 2008 (scab writers) Maxie asks Spin to investigate Coop's death, threatens to make his life hell if he doesn't help her, and takes Spin to Georgie's room. She tells him she doesnt understand why Georgie loved him and tells him contrary to what he believes, she is very much capable of love and feeling. Very interesting when you realize how far they have come, and knowing what's coming up.
Number 6
May 5, 2008 (Mary Sue Price) We can't forget Jaspin and comedy. Spin and Jason go after Ian. Maxie hides in the back of the SUV. Jaspin are at their funniest about who is going to drive. MOOSE!! Maxie gets thrown into the front. Steve and Bradford could star in a night time drama. They are that good together.
Number 5
July 14, 2008 (Karen Harris) Maxie confesses about what really happened during Logan's death. They kiss for real and start to make love. This is a Spixie fan favorite.
Number 4
September 12, 2008 (Karen Harris) After Maxie has a harrowing day in court, she is ashamed to face Spinelli. When he finally catches up to her, Spin tells her why he thinks she's a work of art, which brings Maxie to tears. They hug and he lays his head on her shoulder.
Number 3
November 18, 2008 (Michael Conforti) From the time Spin finds Maxie eerily laying like the strangled Georgie, until he takes the gun, this is BA at his best. I pick this day because we go from the steps scene to the hospital, where he confesses to a concussed Maxie that he loves her.
Number 2
December 23, 2008 (Susan Wald) Santa comes to town and wants Spinelli to help him. Jingle Jackal and Maximista help PC residents get their Christmas wishes. Monica gets to see Alan and we all cry. In the end, Bradford and Kirsten go out of character and look into the camera, wishing fans a Merry Christmas. I pick this episode, not because of BA's incredible acting in this episode, but because it shows what a unique icon Spinelli has become on this show. This is going to end up a GH classic, I'm sure.
Number 1..
June 16, 2008 (Michelle Val Jean) Sonny humiliates Spin, he has a bad confrontation with Maxie and we see Spin drunk on the docks. Claudia rescues him. He was not the Jackal or Spinelli, he was Damian!
Time for some Kudos... (December 29th & 30th)
Firstly, at Robin and Patrick's wedding, Spinelli had a fantasy of dancing with Maxie. This was an actual song and dance routine, as a cool/calm/collected Spinelli debonairly asked Miss Jones to dance (perfectly choreographed). But the fun didn't stop there as Spinelli began singing a tune, transforming the scene into a something reminiscent of old Hollywood dance numbers. He sang "Can't Take That Away From Me" in a sweet and romantic show of skill on Bradford's part.
One Spinelli fan actually told me they got in a little tiff with another fan who just didn't believe it was "Really Spinelli" singing. Wink. You and I both know of Mr. Anderson's vocal abilities though, as showcased at Broadway Cares, SuperSoapWeekend and of course his wonderful rendition of My Funny Valentine on the Love Affair soap star album. A lot of fun, though I would have loved for this fantasy to have been real.
New Year's Eve was another showcase of fun for Spixie fans as the two spent their evening trying to recover a lost article that Maxie had written for Crimson. Sadly a power outage caused
the article to meet it's maker. Upset and frustrated, Maxie was quite bummed. Spinelli told her the story of the original manuscript of Romeo and Juliet to cheer her up. According to Spinelli, Shakespeare's dog ate the original copy of the classic play and this forced Bill to rewrite the whole thing from scratch. What resulted is n
ow hailed as a crowning achievement in literature across the world, all because of a rewrite. Maxie marvels at how Spinelli always seems to expect more from her than others ever dared. Just as the clock strikes midnight, Spinelli and Maxie are paused by the window watching fireworks. There is a curious pause, almost a hesitation between the two, and this fan hoped for a kiss. Instead, Spinelli's cold brought on a poorly timed sneeze. The kids laughed and hugged, ringing in the new year together.
New Year's Resolution: Get Spinelli some Vitamin C to keep away the sniffles.
Major Kudos to Bradford (and the lovely Kirsten Storms) for these scenes.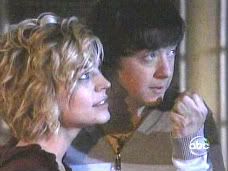 Posted by

Lindsay_007
at 4:32:00 AM
No comments: