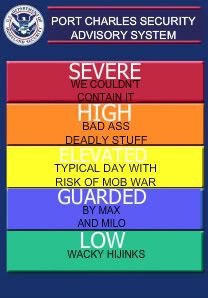 During this crisis, I thought it would be helpful to have an color coded advisory system in place for your benefit.
Red--Severe--"We couldn't contain it", Dr. Drake yells with anguish regarding a biotoxin...Best advice? Find a place to hide through sweeps.
Orange--High--Agent Raynor referred to the biotoxin as bad ass deadly stuff, and that should tell you just how bad ass the threat is.
Yellow--Elevated--Typical day in Port Charles, a town always at risk for the stray bullet or explosion.
Blue--Guarded--Not a terribly threatening day, Max and Milo being your body guards should do the trick when it comes to protection.
Green--Low--Things are generally cool, though the occasion burst of wacky hijinks should be expected. Look out for Jackal PI working on a new case. If you hear the wacky hijinks theme, be warned, it is eminent.
Be careful, PC residents!